So, you wanna know more about The Cloudmaster, eh? Well, for starters, his name's actually Danny Sauer, and this is his home page's third generation.
I know, I know, I've been promising to put up a better page for several years now. Well, I finally got a decent internet pipe to my house (insert plug for CCA Online here), so the web server's local now, and thus, I'm inclined to work on it more often. For some reason, I was just not motivated enough to redo the whole site in an ssh session over a high-latency 56K link. Look, I've updated the page some, though. Never mind that the motivation to update this page is the pending demise of my employer. You, the reader, get updated content! Especially in the Faq-o-matic.
Here's a list of stuff I'm providing at this location:
My mobile mp3 player project information. Everyone else is doing it... :) The page went up in , and was hit times. The project's kinda dead since I sold the car - so it doesn't get updated much.
My other projects. Various products of Aardvarks With Chisels. That page was last modified on , , by .
My link page. Not much here, but it's available.
I recently modified my bookmarks page to not suck. Now I'm using bk2site to make a cool little Yahoo!-like site for my horrific bookmarks file. This thing's just neat as heck... :)
My resume. Resumes are too formal to have any real fun with or to fully describe the typical geek (such as myself). Drop me an informal email if you really wanna know what I can do.
An auto-math page. Right now, there's just a calculator for gear-ratio/tire-size/speed relationships, but soon there'll be a whole bunch of cool stuff up for car people. :)
Ryan's proposal for Rhapsody's menu system. You're free to get ahold of him and incorporate menus like this in your next user interface (window manager developers?) Fixed, as of late Apr. 2000. Irrelevent, as of a while ago. :)
There are some screenshots here of stupid/silly dialogs...
I've put together some random ramblings that I think should be published somewhere, but don't make sense anywhere. I'll occasionally update that page with more stupid things. :)
Cloudmaster.com's RC5 cracking team, known as DeathKabob. No, we're not evil - it's a funny, made up name (explained on the page).
My idiots who shouldn't be e-mailing page, here for your amusement (someday soon, maybe).
The local DeCSS mirror. No, not the illegal one, but a program for removing cascading style sheets, named DeCSS just to annoy MPAA searchers. Read the page for a rant I agree with (mostly).
A handy google search form that makes me 3 cents per search... :)
It's not really "provided" here, but I regularly contribute to the LUCI (linux users of central IL) discussion list, so it's relevant to me.
I suppose that I should one day get some better stuff up here, and probably take the time to generally reorganize. I'll probably arrange the site using the Faq-o-matic, mostly because I really like the system and I assume that most people come to my site with a question that they want answered. I'd like to think that some of them even want to give me a job - preferably a job adminning a mixed linux/windows network, though I'd happily develop for the web. A job where I could admin systems used to develop for the web would be cool, too.
By the way, use linux. On that linux system, at least try kde

.
I've been using KDE recently, having cycled through gnome and windowmaker, as well as some less significant window managers. KDE's matured pretty nicely since the early betas, and is now really pretty easy for most any non-geek to use. The browser (Konqueror) that's an integral part of KDE is really quite nice now, too.
This page was last modified on , , by using vim. It's currently being hit an average of times per day. In total, there've been accesses since Feb. 28, 2000 ( dog years ago). All of the stats on my pages are generated using RXML parsed by Roxen Challenger - quite a nice web server.


---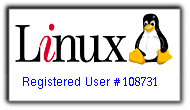 If the web cam is up, you'll see it here:


That would be a view from my desk into the living room - past the walladew.
The view is generated by a Zoom USB camera on my linux box.